Kerala Flood 2018
Rainfall data analysis
Kerala the southern state of India witnessed the worst flood in 94 years due to an unusual monsoon season.
More than 1M people got affected. 35 out of the 44 dams within the state were opened for the first time in history.
Monsoon poured 41% extra rain resulted in a death of over 483 people.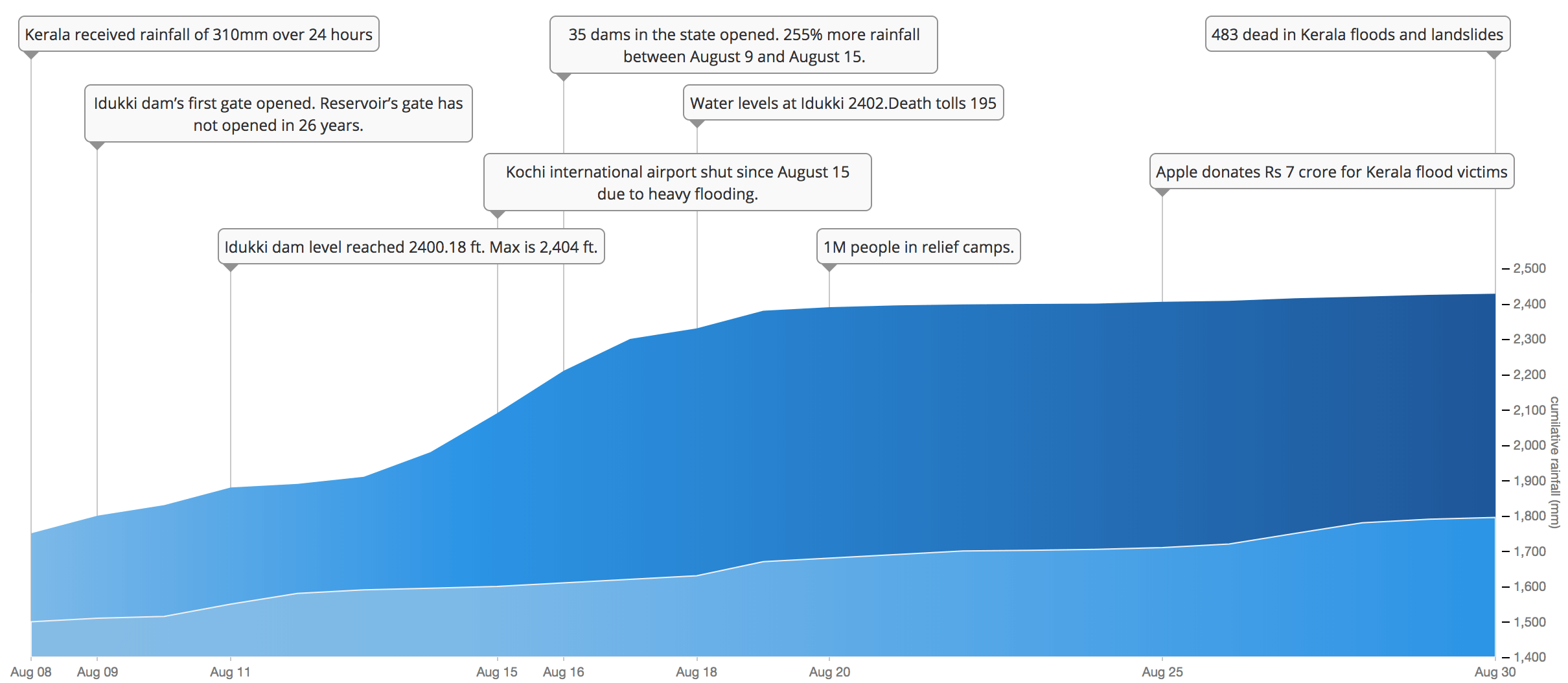 A cumulative view of rainfall data from June 1 to Aug 30. Actual v/s Normal
The normal cumulative rainfall during monsoons in Kerala from June till end of August is around 1795.4 mm, but this monsoon got an actual cumulative rainfall more than 2428.9 mm. Almost all dams had been opened since the water level has risen close to overflow level due to heavy rainfall. Idukki district got 94% extra than normal during the period of June 1st to August 17th. Kochi international airport shut on August 15 due to heavy flooding and it was reopened on 26th. Kochi Metro was closed briefly on August 16, and has since begun offering free service to aid those affected by the flooding.
Pulling out the records of the last 140 years, Dr Arvind Srivastava, director of IMD, explained the rainfall figures in Kerala. "The highest rainfall in Kerala occurred in 1907, that was 175% higher than normal. It was almost 900mm in the month of August then and this year, till August 21, the rainfall has been 780mm which is 150% excess of the normal" Srivastava said.
A cumulative view of rainfall data from June 1 to Aug 30. Actual v/s Normal
During the week of Aug 9th to 15th the rainfall was severe and Kerala received 255% extra rainfall. Idukki district in which major dams are situated received 679mm of rain just during that week, the normal during that period is only 126mm, which is 438% extra rain.That leads to the opening of Idukki dam after 26 years. Wayanad received 536.8mm rainfall which is 299% extra for that hilly district, the normal rainfall for Wayanad is only 134mm . This incessant rainfall triggered landslides and snapped road links between Wayanad and rest of Kerala.
There are images released earthobservatory NASA, which shows the satellite view of kerala before and after the flood. Details from earthobservatory.nasa.gov as "The Operational Land Imager (OLI) on the Landsat 8 satellite acquired the left image (bands 6-5-3) on February 6, 2018, before the flood. The Multispectral Instrument on the European Space Agency's Sentinel-2 satellite acquired the right image (bands 11-8-3) on August 22, 2018, after flood water had inundated the area. The images are false-color, which makes flood water appear dark blue. Vegetation is bright green."
Photo Credits: https://earthobservatory.nasa.gov/images/92669/before-and-after-the-kerala-floods
Kerala has two rainy seasons, the first starts in June and the second in mid-October and finally ends around mid-November. For the first three months of monsoon ie from June 1st to August 31st Kerala received more than 35% of rainfall. Actual rainfall of 2428.9mm in the place of a normal 1795.4mm.Idukki received the 3580.6mm rainfall which is 82% extra than normal. 13 districts out of 14 received more than normal rainfall, Kasaragod on north most of Kerala is an exception with -13% from normal. Palakad district also had 65% extra than normal with 2305.6mm falls under the category of Large Excess(LE) along with Idukki.
Palakkad
2305.6mm
65% (LE)
Kottayam
2355.0mm
45% (E)
Malappuram
2662.8mm
44% (E)
Ernakulam
2526.1mm
43% (E)
Meteorologists say that the rainfall data over the last six years do not suggest a visible pattern. After a peak in 2013, rainfall in the state dipped in 2014 and hit a low in 2015 before slowly rising in 2016, 2017 and 2018. In 2013, all the state's districts, except Thiruvananthapuram, received more than 1400 mm of rainfall. Kannur, with 3119.4 mm, got the most rain. "It is due to the inter-annual variability and changes in climatic conditions," said D Sivananda Pai, who is the head of the Climatic Prediction Group at the India Meteorological Department in Pune.
2010
2011
2012
2013
2014
2015
2016
2017
Idukki records the highest rainfall with 4060mm in 2013, Thiruvananthapuram with 1154mm in 2011 is the lowest. The average rainfall for Kerala since 2010 to 2017 is 2721mm, it varies from 1885mm to 3222mm.
The Economic Times has reported that 33,000 people have been rescued. The Kerala State Disaster Management Authority has placed the state in a red alert as a result of the intense flooding. Over 3,274 relief camps have been opened at various locations to accommodate the flood victims. It is estimated that 1,247,496 people have found shelter in such camps.According to initial estimates, property worth more than ₹20,000 crore has been lost and insurance companies have already received claims worth ₹1,000 crore.
As of 02 October 2018, ₹1620.55 crore (US$220 million) was collected from the public including organisations, corporate firms and famous personalities. The donations can be submitted to Chief Minister's Distress Relief Fund(CMRF). CMRF is an emergency assistance release mechanism granting immediate relief to families and individuals distressed by calamity, loss of life due to accidents and chronic diseases